The Christchurch to Kaikoura train service operates between Christchurch - the South Island's largest city to Kaikoura - home of whale watching and onto the delightful port of Picton - the gateway to the beautiful Marlborough Sounds.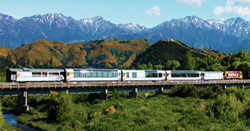 Your journey takes you through the wine growing region of Blenheim to the rugged Kaikoura mountain ranges on one side of your train, the Pacific Ocean coastline on the other with views of marine wildlife such as seals and penguins to some of New Zealand's finest horticultural and farmland areas of the Canterbury Plains all from the comfort of your carriage.

If you travelling onto Picton and the North Island, you stay in the town of Kaikoura, where you take a whale watching tour or get up and close by swimming with the dolphins or see the various marine life that surrounds Kaikoura.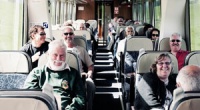 All carriages are centrally heated, air conditioned with on board washroom/toilet facilities, 'Table' (4 people around a table) or forward facing reclining seating allowing you to share experiences through large panoramic windows.

There is an open air viewing carriage where all your senses are awakened with the clean, fresh, sea air and a Café Carriage offering a selection of alcoholic and non alcoholic hot/cold drinks, snacks and light meals.

This train is a reserved seating 'One Class/Non Smoking' service.

This train connects at Picton with various Cook Strait ferry sailings to Wellington in the North Island.

So, sit back and enjoy a genuine kiwi rail experience through the South Island's north eastern rugged coastline.